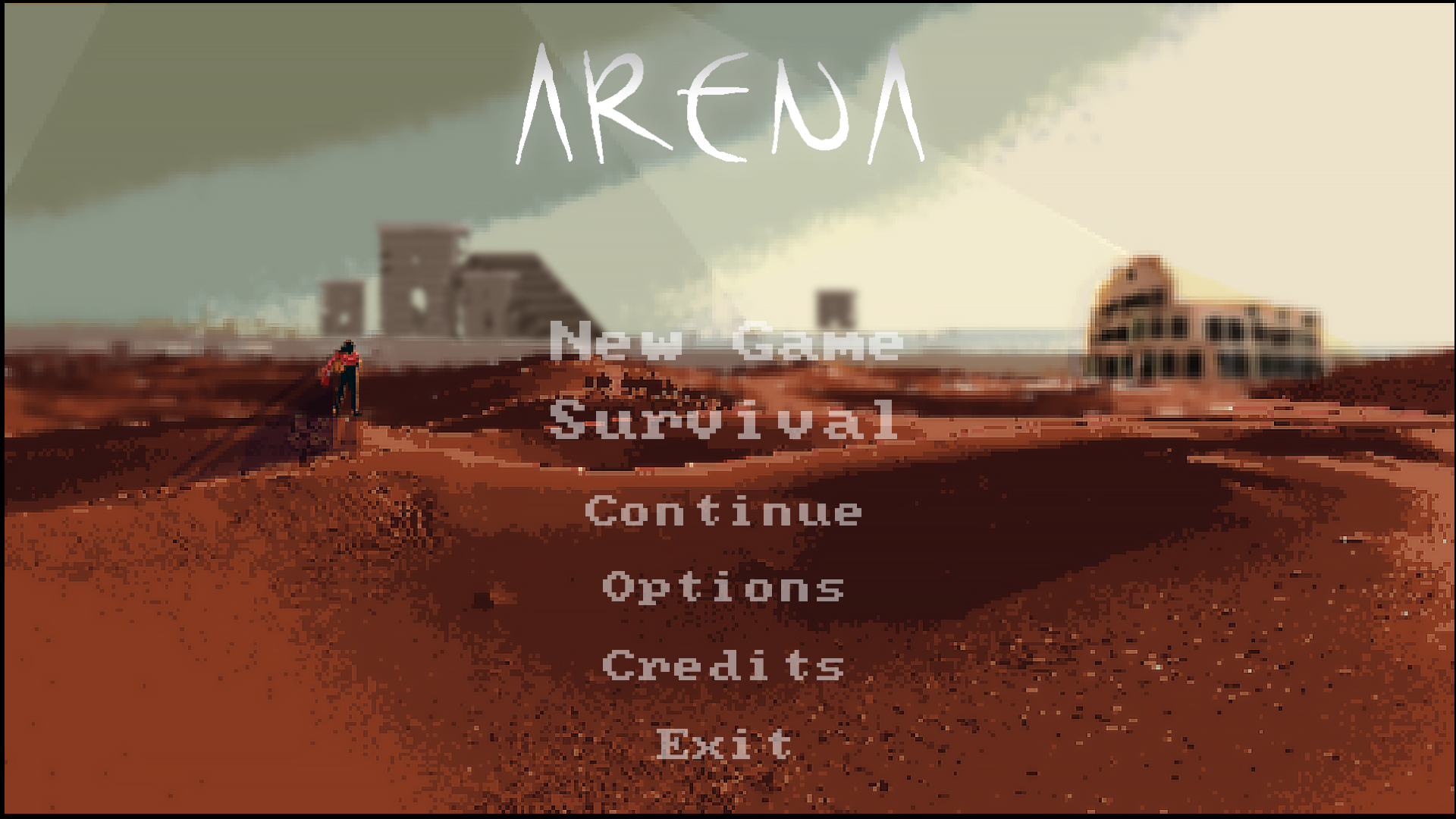 Arena
A downloadable game for Windows
Brave waves of enemies in the great colosseum ! Build your fame in the arena and have a fight against the man who abducted your wife.
Arena is a high difficulty game. Be ware, you'll have to try hard to get good results ! Play the story mode (story line is yet absolutely incomplete), and defeat successive waves of more and more enemies. Feel like challenging yourself ? Compete for the high score in survival mode !
The game is still in development. Feel free to give us feedbacks and bug reports by leaving a comment (known bugs are listed at the bottom). We would enjoy to team up with graphists to have our own assets, contact us if you're interested.
Controls :
Format : Keyboard | Controller : Action
Arrows | Left Stick : Move / Jump / Crouch (Spacebar also allows you to move)
W | Square / X : Punch (Fast, might allow you to make combos)
E | Triangle / Y : Kick (Pushes your ennemies back)
R | Circle / B : Sword (Deals more damage)
S | RT / R2 : Slide (Cancels ennemy attack, stuns them and allows fast moves)
D | LT / L2 : Dodge (Well, that's pretty explicit)
T | DPad Down : Interact with items
P and Esc | Start : Pause the game
We suggest that you play with a controller, however we didn't have time to make the menu usable with it yet.

Targets for future improvements:
Juice (more and cleaner feedbacks)
Ergonomy (controller friendly menus, input settings)
Story (full rework)
PlayTime/Replayability (More ennemies, storing high score, balancings...)
Known bugs :
Persistant feedbacks :

When hitting an enemy by sliding, the particles are persistant

When the player dies, particles are persistant

-Didn't identify the conditions- The text for the amount of damage sometimes also sticks to the screen
Patch notes :
v1.1 (28/02) :

StoryMode loads correctly
Player can now restart when loosing in SurvivalMode
Removed StoryMode's HUD from SurvivalMode

v1.2 (01/03) :

Improved StoryMode's HUD and difficulty curve
Arena is made with Unreal Engine, for the UE4 Jam Winter 2019 by :
Maxime DESINI
Pierre HENNECART
Thomas LAVERGNE
Baptiste ROUSSERIE
Esteban SAINZ
We're a team of students in computer science, thus we know how to program but not how to draw or model. Therefore, please apologize for the many tierce assets we use.
Made using serveral free assets :
Player character : https://rvros.itch.io/animated-pixel-hero
Ennemies : https://stensven.itch.io/light-heavy-bandit
https://elthen.itch.io/2d-pixel-art-minotaur-sprites
Seller : https://lionheart963.itch.io/wizard
| | |
| --- | --- |
| Status | In development |
| Platforms | Windows |
| Authors | brousserie, Mavato, Pajjitant, KantikPotatoe, Pierrhum |
| Genre | Fighting, Action, Platformer |
| Made with | Unreal Engine |
| Tags | 2D, Arcade, Controller, Difficult, Pixel Art, Singleplayer, Unreal Engine |
| Average session | A few minutes |
| Languages | English |
| Inputs | Keyboard, Xbox controller, Gamepad (any), Playstation controller |